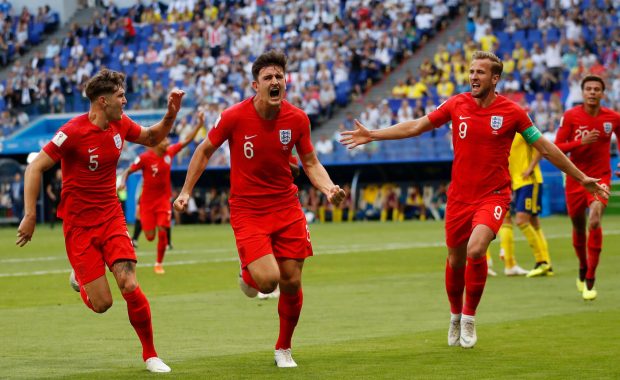 For the previous two decades, the English national team has been blessed with talented superstars that have filled the country with ambitious expectations.
Frank Lampard, Paul Scholes, Steven Gerrard, Wayne Rooney, John Terry, Rio Ferdinand and Michael Owen… to list but a few. 
With the expectations weighing heavy on the shoulders of the English players, and a vicious media salivating at the opportunity to criticise, the team has perpetually underachieved at every tournament. 
The stars of recent history have now twinkled into retirement and, with painful memories of defeat to a technically poor but tactically organised, thunder clapping Icelandic sucker punch, Russia 2018 is upon us and England fans have never been so pessimistic. 
Gareth Southgate is appointed as England manager. A man known mostly for a missed penalty at Euro 96 that resulted in Germany winning a penalty shoot out… again. A man that has an uninspiring managerial career with championship sides and England under 21's. 
For the first time in decades, nobody expects, and nobody believes that, England can progress any further than the achievements of Rooney and co. 
A very young squad of English players arrive in Repino with almost no pressure and expectancy from their fans at home. A combination of youth and freedom, with the additional factor of a manager than encourages the players to enjoy themselves, allows the team to express themselves and play with no fear. 
Finishing 2nd in a group with Belgium, Tunisia and Panama was a reasonable target. Belgium are a very dangerous team with players that are probably more familiar to English football fans than some of the England players. However, Tunisia and Panama are not teams that have the ability to worry England. It was not quite as simple to begin with and England were very fortunate to edge past Tunisia with a late swivel header from, the English messiah, Harry Kane.
Panama was a different game completely, and with Panama more interested in wrestling than football, England breezed to their biggest ever competitive win.
The match with Belgium was a blessing in disguise. Eight changes made to the starting eleven player, Gareth Southgate chose to rest players, the choice was made that winning the group was not a priority. 
The surprise elimination of a beautifully poor Germany side left England with a generous route to the final. 
All of a sudden, belief was beginning to grow back in England, and the whole country is filled with hope and passion once again.
Colombia had already shown that they are a strong opponent, with a 3-0 win over Poland, and topping a competitive group H.
With news that the Colombian main man, James Rodriguez, is ruled out with an injury, Colombia look less of a team to fear. The Colombians tried every dirty trick in the book, even adopting some of Panama's Harry hugging techniques, and pushed England to a penalty shootout.
Back in England, 20 million people are watching the penalty shootout with only one fact racing through their thoughts. England never… EVER… win penalty shootouts. Instantly the painful memories of past shootouts flood back, accompanied by doubt and distress.
However, the fearless English youngsters dispatched their penalties (let's not talk about Henderson), and England's youngest ever World Cup goalkeeper displayed the reflexes of a cat to send English fans into a frenzy.
Quarter Final… England's usual stumbling block, usually losing to Germany. But this time there is no Germany… There is Sweden instead. England kept possession expertly and broke through a resilient Swedish barrier. A comfortable 2-0 win and every street in England turns into a carnival of St. George's flags and lager.
Now the country ponders the same question… 'Could England really win the World Cup?'
In the last couple of days I have found myself constantly drawn to the World Cup wall chart in my kitchen. Staring at the same set of words over and over. The first set of words being semi-final. The final word bringing an overwhelming smile to my face… England.
Croatia stand in the way of England reaching an unlikely World Cup final. Croatia have many players that can cause a lot of problems but, Modric and friends have been poor in their previous two games, and I believe England have the confidence to beat them. I'm sure it will be a very difficult though and England will need to be at their best.
There are still two teams in the path of World Cup glory but, for the first time in a long time, England truly believes that it's coming home… Football's coming home.
Author: Will Boardman
S diagnózou akútnej neschopnosti vidieť veci jednoducho budete ťažko písať vždy to, čo, a hlavne ako by chcel pospolitý ľud čítať, keď ale dáte dokopy odviazané podvedomie, excesívnu metaforu a bizarnú iróniu, doktor vám na to poľahky vystaví papier. BROsport je každopádne pecka. Megapecka.